We're located at 6805 E. McDonald Drive, Paradise Valley, AZ 85253, just west of Scottsdale Road. While officially located within the town of Paradise Valley, Temple Solel is easily reached from communities Valley-wide.
Accessibility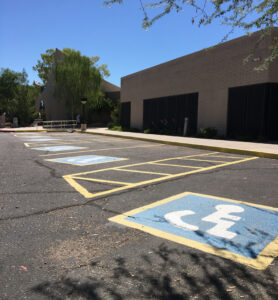 Our buildings and grounds are fully accessible to the physically challenged. Our Sanctuary was designed with graduated seating for excellent sightlines, comfortable spaces for wheelchairs and other mobility aids.
Social Hall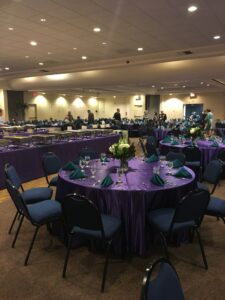 The Social Hall is a modern, ballroom-style space with movable wall panels that make it suitable for virtually any size and type of event. The room boasts a grand stage that can serve as a bimah, complete with movable Ark and pulpit. The newly-upgraded sound system and a dance floor make it ideal for parties and receptions. Thanks to its versatility, a fully-equipped kitchen and catering/service staff, and the ability for event hosts to bring in pre-approved outside caterers if they wish.
To rent out the Social Hall, please contact the temple office at 480.991.7414.
Sanctuary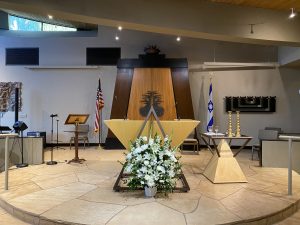 Temple Solel's Sanctuary is a lovely space that renders a feeling of serenity and peace upon entering. Our breathtaking wall-sized stained-glass window includes an interior scene from a 16th-Century Amsterdam synagogue superimposed over a boundless desert-mountain landscape, as well as quotes from sacred texts, contemporary liturgy, and poetry. Our timelessly simple and beautiful Ark completes the setting. It is a space that, for so
The Solel Gift Shop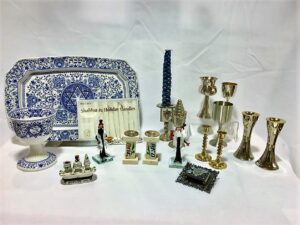 Our gift shop, located in the lobby, offers books, jewelry, tallitot and kippot, tzedakah boxes and Kiddush cups, special-occasion and holiday greeting cards… a seemingly endless trove of toys, gifts, and ritual items for every day and for every Jewish holiday. We carry one-of-a-kind pieces and works by local and Israeli artists.
The Library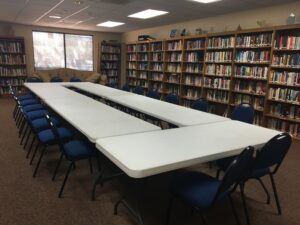 Our collection of more than 5,000 cataloged volumes is a great source of pride for us and includes all aspects of Jewish literature, history, reference and, of course, scripture. The library is available to everyone in our congregation. Books can, of course, be borrowed and we encourage our members to make the library a useful part of their lives.