The Art@Solel Committee has awarded Lena Weissman, a senior at Pinnacle High School, with its annual Art Scholarship. The Committee will present the monetary award and certificate of excellence to Lena at the June 11, 2021 Friday night service. The award is offered each spring to a temple family graduating senior who has demonstrated a significant interest in art and in continuing its pursuit in the future. Funds for the scholarship come from designated donations to Art @ Solel and from a percentage of sales from ART SHOWCASE.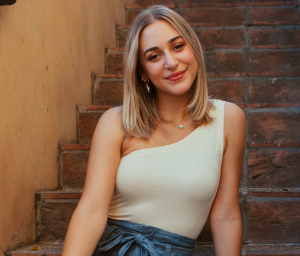 Lena Weissman (18) is a photographer and sketch artist who took an interest in art at a very early age.  Learning color combinations as a toddler painting landscapes with her Grandmother on the garage floor instilled a love for creating beautiful things that Lena carries forward with her today.
     In high school, Lena became a student of Photography for three years where she had the opportunity to work in a studio and gain skills in Photoshop. She served on the board of the Photography Club at Pinnacle High School and qualified to exhibit at the Future Business Leaders of America State Photography Competition.
      Bringing her camera on all her travels across the U.S. and internationally has allowed Lena to capture some beautiful and diverse landscape shots. Currently, she focuses on portrait photography and has been engaged by fellow classmates to create their senior pictures.
      Lena was also a student at Trish Marberry's Studio in the Advanced Drawing and Portrait classes. This experience developed Lena as a sketch artist and gave her the confidence to tackle realism and portraits. Lena spends weeks working on one portrait until it satisfies her standards of perfection.
      Lena will be attending the University of Arizona Honors College in the Fall where she plans to study Speech, Language and Hearing Pathology. She is honored to have received the Art at Solel Scholarship and intends to pursue her passion for photography and sketch art moving forward into college life.